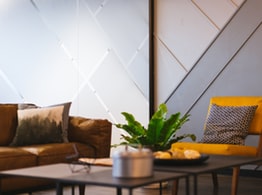 Put Samples In Different Locations
Put Up Plenty of Color
Put Color Where It Will Actually Go
Make Lighting Conditions Consistent With The Way They Will Be On A Long-Term Basis
Be Sure Your Sample Is Fully Coated.
Juli's Tips For TESTING COLOR
1. Put samples in different locations
If you are testing more than one color for a given room (or a given surface, on an exterior), put those samples in different locations. It can be the same wall, but skip over 3 feet or so.
Never, ever apply competing colors right next to each other. I can't tell you how many times I've seen this mistake on Pinterest or blogs, including by people who consider themselves home design influencers.
The goal is not to compare two or three potential color choices – a proper color specialist already knows how the colors are different. That's what the Color Notation data tells us.
Which color is lightest? Which is warmer or cooler? Which has more chroma (perceivable color)?
You sample to ensure you still like the color when you can see more of it under your particular light conditions, and to confirm that it looks pleasing with any major materials in the room, such as tile, countertops, upholstery or cabinets. Or in the case of an exterior color sample, we're considering how the color blends with a roof, gutter, brick or stone.
2. Put Up Plenty of color
If painting on the wall, I like to see a 2' or 3' patch when possible. Even more outside, since you are trying to evaluate against a much larger surface. You need a big enough exterior sample to visually "overwhelm" the existing color scheme, or it will be extremely difficult to judge the new colors.
There are differing schools of thought as to which is the optimal medium for your sample. Personally, I like putting it on the wall at some point, because the texture itself can affect how we view the color. And ultimately, it's the wall (or cabinet or siding) we are painting, not a posterboard.
In any case, there are three main locations to paint your test color:
On a foamcore board or canvas board
Directly on the wall/trim/siding
Using a repositionable sticker like Swatch Right (hyperlink?)
There's no law that says you can't use any 2 or all 3 of these sampling methods. However, it's not true that white is the best background color against which to evaluate other colors. The best color is Munsell N7 gray, which a color specialist will have.
That said, white is better than bright red or yellow or other high-chroma hues.
4. Put color Where it will actuallY go
This would seem to be obvious, but you'd be surprised.
A wall color goes on the wall. The trim color next to that swatch. Be careful not to paint latex samples on oil-based or bare wood surfaces, however. (regular latex paint doesn't adhere well to oil) In that instance, a scrap board will do.
If you need to test multiple colors in multiple areas (major renovation or new construction), put each color in its proper room. Do not put small patches of your entire palette of 8 or 10 colors next to each other on a single wall in your den. Yes, I have seen this done. More than once.
If testing exterior colors, mock up a decent section with all relevant colors together. Siding, trim and/or accent. Again, on the actual surface.
If the contractor is doing it, don't let them paint 3 small stripes together, halfway up the side of a 2- or 3- or 8-story building. This will tell you nothing, except how the colors compare to the pre-primed yellow/orange Hardie siding or other existing material. And who cares, because the point is to paint over all of that!
5. Make the lighting conditions consistent with the way they will be on a long-term basis
If you are planning to change light bulbs, do that before making your final color selections. Bulbs have different color temperatures, from the warm end at 2700k (amber), to the cool end at 6,000k or so (bluer light). I've also found the appearance of the bulb varies by brand, even though they may have the same Kelvin number. Experiment with a couple different brands and see what you prefer.
When using LEDs, I personally like the warm or bright white (not daylight) from Sylvania and Ecosmart. They feel more natural to me and easier on the eyes. Again, your preference may be different. If you can't afford to change all your bulbs at once, at least make them consistent within a given room.
Planning to remove drapes or plantation shutters? Go ahead and take them down, or with shutters, at least open them completely.
If this is an addition or new build, try to remove films from new windows. These are often tinted blue and will skew the light. And for heaven's sake, peel back brown paper or better yet, don't wait till painters have masked off all the windows to start testing your colors. If you can't undo the paper, just open the door for some natural light.
6. Be sure your sample is fully coated
If you can see streaks or the underlying wall color in some places, it needs another coat. You won't be seeing the true color. I prefer using a mini-roller to apply samples versus a foam brush, which tends to streak the paint.
Even following all these tips, you may sometimes have a hard time judging the new color when testing against a radically different background color. That's because our eyes are constantly comparing a color to the color it's against. Further, our eyes tend to exaggerate any difference between those colors.
This phenomenon, called simultaneous contrast, can play various tricks on us. For example, it might make the new color appear blue or purplish (when testing on a yellow or gold wall) or make it seem much lighter than it is (when testing on a very dark wall color). Conversely, a white primed surface will make the new color look darker and brighter than it actually is.
This underscores the need for a real color strategist, who will have tools like a colorimeter and can explain the color data, giving you a greater degree of confidence in the new colors you're exploring.